About This Print
An untitled and undated print of a dance performance. The dancer on the left may be portraying the legendary Izumo no Okuni 出雲の阿国, the woman who founded kabuki in the early 17th century.  On the right is her attendant.
Izumo no Okuni
"Purported founder of the kabuki 歌舞伎 theatre and subject of 17c genre paintings fuuzokuga 風俗画. Said to be a shrine virgin miko 巫子 of Izumo Taisha 出雲大社 in Shimane prefecture, she adapted the devotional dance, nenbutsu odori 念仏踊り and came to Kyoto to solicit alms. In 1603 she led a troupe of women in dances and comic skits near Kitano Tenmanguu 北野天満宮. Her original and erotic style of dance became a huge success and was labeled "Kabuki," which derived from the late 16c colloquial expression "kabuku カブク" meaning "shocking" or "forward leaning". More specifically it was called Okuni kabuki 阿国歌舞伎. The erotic nature of this women's kabuki, onna kabuki 女歌舞伎, made it an easy front for prostitution. In 1629 the government banned women from performing and young men were substituted, but with the same result."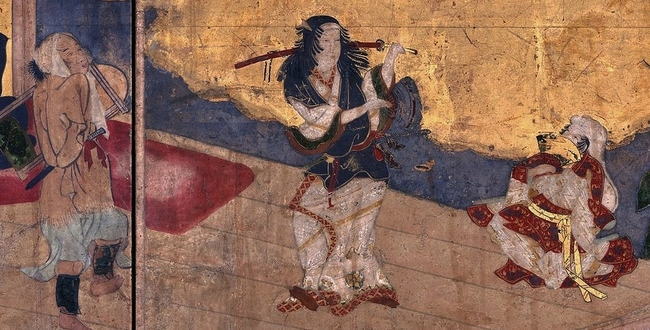 Detail from the "Okuni Kabuki Screen" an Important Cultural Property
held by the Kyoto National Museum and dating from the 17th century.
 IHL Catalog
 #1973
 Title or Description
 untitled Odori (dance)

 Series
 
 Artist 

 Kaburaki Kiyokata (1878-1972)

 Signature 


Kiyokata 清方 above seal


 Seal
 

紫

 "shi" seal (see above)

 Publication Date
 unknown
 Publisher
 unknown

 Impression
 excellent
 Colors
 excellent
 Condition
 excellent

 Miscellaneous
 

 Genre
 shin hanga (new prints)

 Format
 oban

 H x W Paper
 9 1/2 x 14 5/16 in. (24.1 x 36.4 cm)

 H x W Image
 

 Collections This Print
 
 Reference Literature