About This Print
A beautiful small (postcard-size) print picturing Kyoto's Kiyomizu Temple in snow.  Kiyomizu was one of the most frequently portrayed temples in Japanese prints.
Kiyomizu Temple
Kiyomizudera (清水寺; also spelled Kiyomizu-dera; "Pure Water Temple") was founded in 780 AD and still functions as a temple associated with the Hosso sect of Japanese Buddhism.1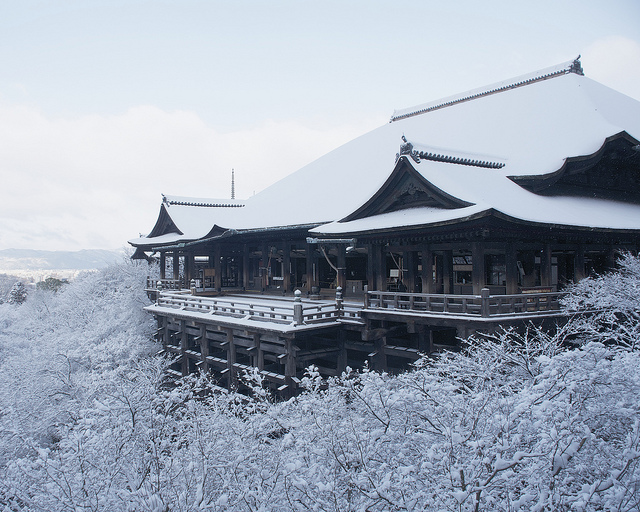 1
Sacred Destinations website 
http://www.sacred-destinations.com/japan/kyoto-kiyomizudera
Print Details
 IHL Catalog
 #1427
 Title
 Kyoto Kiyomizu 京都清水
 Series
 
 Catalogue Raisonné
 Koitsu.com site reference TK-TM-140
 Artist 

 Tsuchiya Kōitsu (1870-1949)

 Signature 


Shinsei 真生
 Seal
 

see Signature above

 Publication Date
 c. 1930s
 Edition
 unknown
 Publisher

Takemura Hideo 竹村秀雄
[Marks: seal not shown; pub. ref. 524]
 Carver
 unknown
 Printer
 unknown
 Impression
 excellent
 Colors
 excellent
 Condition
 excellent - light toning

 Miscellaneous


 Genre
 shin hanga (new prints)
 Format
 postcard

 H x W Paper
 5 9/16 x 3 11/16 x in. (14.1 x 9.4 cm)
 H x W Image
 5 1/2 x 3 9/16 in. (14 x 9 cm)

 Collections This Print
 

 Reference Literature
The Catalogue Raisonne of Tsuchiya Koitsu Meiji to Shin-Hanga, Watercolours to Woodblocks, Ross F. Walker and Toshikazu Doi, Ohmi Gallery Publishing, 2009.
last update:
7/28/2019